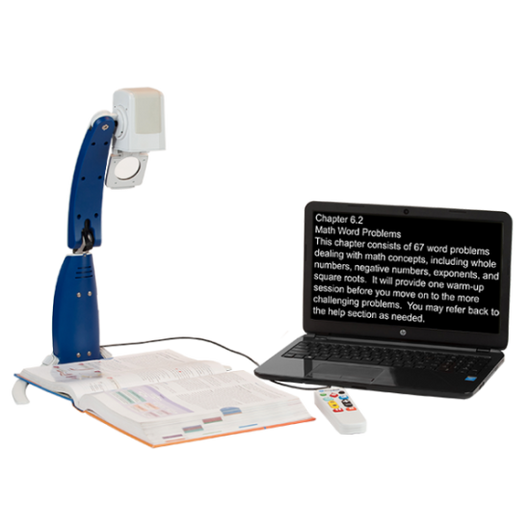 Sale
Special Order Item - Contact us to order
Please note this product is ordered directly from our suppliers once your order is placed and full payment has been received. Please allow up to 2 weeks for delivery assuming the supplier currently has stock available. Supplier stock is not guaranteed, please contact us for lead time estimates.
---
ONYX PHD
The ONYX Portable HD is a lightweight, portable video magnifier for reading, writing, and viewing magnified images at any distance at home, in school, or at the office.
The Onyx Portable HD sets up quickly easily when connecting to your PC and your monitor to deliver smooth video over USB 3.0 while working seamlessly with screen magnification software like Zoomtext (sold separately).The GEM software included in the package enables you to work in split screen and save images to your PC. Or connect to a monitor and save images to an SD card.
ONYX Portable HD offers a sleek foldable and compact body to fit the lifestyle of students and professionals. It can be easily carried from home to the school room or the office.The Onyx Portable HD  can be used just with a screen to offers Crisp and Clear Magnification from the whiteboard to your desk for meetings or study. The 3-in-1 lightweight, flexible camera provides document reading, distance viewing, and self-viewing modes.
Connected to either a monitor or a PC, the ONYX Portable HD provides the comfort and productivity of stationary desktop models with HD image quality, wide magnification ranges, 33 configurable screen colour modes and adjustable reference lines and masks.
Auto-focus allows for seamless work between distance and close reading tasks and the Find function allows the user to quickly locate and zoom in on the next area of interest.
Features
Four-in-one video magnifier with two separate cameras for distance, document, self view and OCR functionality:

Flexible camera to observe objects across the rooms or auditoriums in sharp focus (distance view), to magnify documents such as reading materials, daily business tasks, classroom assignments, product labels and craft projects (document view), and to get magnified true mirror image (self view)
Convenient fixed position OCR camera to listen to documents effortlessly – Always place the document in the same place

Touch screen monitor: Tap the screen to begin reading at any point and from any place in the document
Displays full pages and automatically identifies the document layout
 
* Shipping and handling not included in price. Laptop not included.