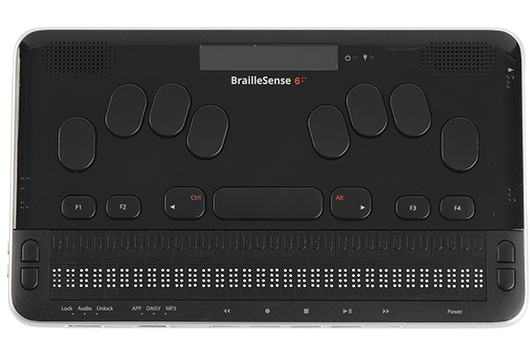 Sale
Special Order Item - Contact us to order
Please note this product is ordered directly from our suppliers once your order is placed and full payment has been received. Please allow up to 2 weeks for delivery assuming the supplier currently has stock available. Supplier stock is not guaranteed, please contact us for lead time estimates.
---
The BrailleSense 6 is the most powerful notetaker in the world. Designed with the fastest hardware and powered by Android 10, it is the ultimate notetaker.
BrailleSense 6 is an innovative collaboration of Braille and mainstream technology, offering the blind and visually impaired unprecedented accessible and intuitive productivity in today's tablet-based world.
With its built-in apps for document creation, e-mail, Web browsing, media and DAISY playback, contacts, calendar and database management, and book search and download, BrailleSense 6 is a powerful productivity tool that promotes Braille literacy through its Braille-centric command structure; while supporting Google Apps such as Google Drive, Google Docs, Google Sheets, Google Slides and Google Classroom; ensuring students and professionals can be intuitively productive and efficiently collaborative in the contemporary world.
ANDROID 10
The latest operating system in a braille notetaker
6 GB OF MEMORY
For when you need to get things done fast without the lag
OCTA-CORE CPU
Increased performance for multitasking and meeting demands of powerful apps
128 GB STORAGE
For keeping all of your files with you, no matter the size
SHARE VISUALLY WITH USB-C
Ditch the screen and share visually with a single cord, just as it should be
ULTIMATE CONNECTIVITY
Mix audio tracks, live stream video, and more with off-the-shelf peripherals
* Shipping and handling not included in price