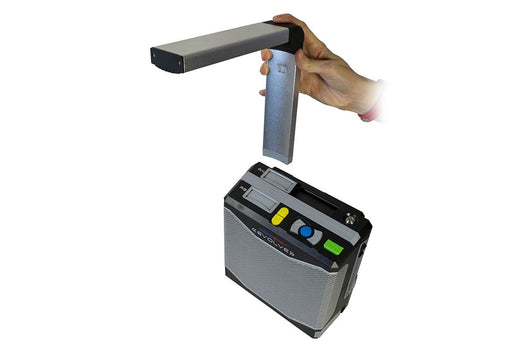 Sale
Special Order Item - Contact us to order
Please note this product is ordered directly from our suppliers once your order is placed and full payment has been received. Please allow up to 2 weeks for delivery assuming the supplier currently has stock available. Supplier stock is not guaranteed, please contact us for lead time estimates.
---
ReadEasy Evolve

ReadEasy Evolve is a lightweight portable machine that reads to you. It is the world's first standalone reading machine capable of reading newspapers (A3 size).
With the push of a single button the ReadEasy Evolve photographs printed text & within seconds, begins reading it out loud. Letters, bank statements, books, recipes, product packaging etc. are all read with ease.
Features:
Ease of use: ReadEasy Evolve is easy to use. A single button press is all it takes to start reading your document. The six tactile built-in controls are all that are required to access ReadEasy Evolve's main features. It is incredibly simple and intuitive to use.
Accuracy: ReadEasy Evolve uses the latest camera and recognition technology to ensure it is extremely accurate when reading both simple & complicated material. It analyses the page layout to identify columns & pictures. It is capable of reading text as small as 5pt when capturing A4. ReadClear Technology ensures accurate text recognition. It stops text being captured when a document is moving / being positioned.
Quality of speech: Using the latest natural sounding voices, together with a custom designed, stereo speaker system, voices are both loud and clear.
Speed: ReadEasy Evolve reads your document to you in as little as 3 seconds, which means less waiting. It also has 40 different reading speeds.
Stylish and practical design: A stylish, all aluminium case together with a unique folding handle and magnetically detachable camera means the ReadEasy Evolve fits anywhere in your home.
Weight: ReadEasy Evolve is one of the world's lightest free-standing reading machines at just 2 kg, (4.4 lbs), making it easy to take with you or pack away.
Versatility: Reads from almost any surface, flat or round. ReadEasy Evolve's camera allows it to capture deep into the spines of books without flattening them, as well as read 3D objects like tins, boxes, cartons etc.
Support: Intuitive Help button with audio instructions of each button's function.
Advanced features available: The Feature Pack is available for both partially sighted and blind users.
 
* Shipping and handling not included in price